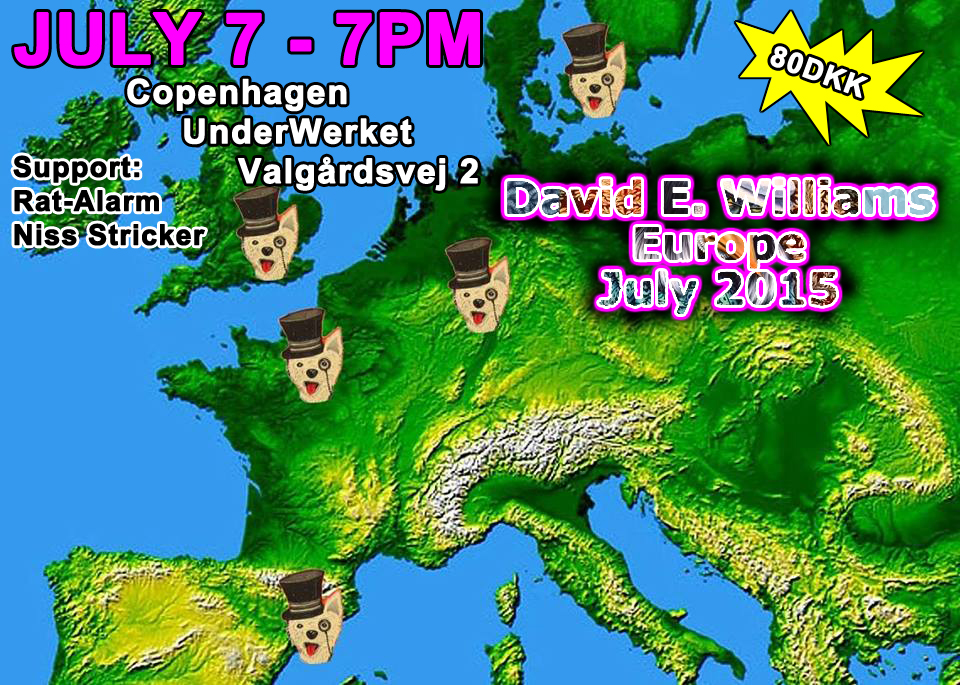 DAVID E. WILLIAMS
NISS STRICKER
RAT-ALARM
Date: July 7 2015 7PM
UnderWerket, Valgårdsvej 2, 2500 Valby
MAP
Entrance: 80dkk
DAVID E. WILLIAMS
Chamber synthpop, dark and deranged torch songs, existential angst and demented, sleazy lyrics that would make John Waters feel uncomfortable: Such is the world of cult hero DAVID E. WILLIAMS.
Williams has released numerous recordings of his demented chamber pop for close to three decades, but he has also collaborated with other artists, such as Rozz Williams (Christian Death), Blood Axis (as touring keyboardist), Deathpile, Jerome Deppe, Naevus, Thomas Nola and Andrew King.
A long standing icon in the world of neofolk and, especially, beyond, David E. Williams continues to expand the boundaries of dark cabaret and neofolk in ways that perpetually leave him as the ultimate outsider of both genres. And Williams' songs are songs for the outsider weirdo that hides deep within us all.
Williams is touring on the back, his 6th full length release, 'Trust No Scaffold Built of this Bone'. The new music ranges from finger-snapping ditties to chamber synthpop to his ever popular piano-driven art songs. The lyrics documents the violent dread of every moment, sung by a troubadour narrator whose delivery is deadpan in the extreme, with uniquely unsettling lyrics on the nexus of existential angst and cultural despair.
Purchase of all David E. William releases are available at iTunes Store.
www.davidewilliams.com
David E. Williams Soundcloud
www.itunes.apple.com/us/artist/david-e-williams/id216314686
NISS STRICKER
Niss Stricker first appeared on the danish spychedelic folk scene with the release of his first solo album in 2003 entitled "Fuglphoenixfjer". The album was acclaimed by critics for the pastural tone in Niss Strickers singing. Niss Stricker plays an amazing assortment of stringed instruments ranging from the indian sitar, guitar and celtic harp.
In 2009 Niss joined the band Lotus Krokus and has toured and recorded with them ever since. 2009 also saw the release of his second solo album "Under Himmelhavet", which was to condense musical ideas of fusing indian soundscapes with a more traditional nordic tone.
In 2014 Niss Stricker released his third album "Tinsoldatens Rejsesang", an album that continues the musical voyage with an assortment of indian instruments and danish lyrics.
nissstricker.dk
Niss Stricker Facebook
Review on Psychedelic Folk
RAT-ALARM
Rat-Alarm is a new 3-piece band from Denmark, playing alternative electronic and psychedelic punk inspired by bands such as Suicide, Cabaret Voltaire and Silver Apples. Their sound is both monotonous and atmospheric, and everything is played on old synths and rhythm boxes – NO computers.
Brian and Martin from the band are well known underground figures, having played together in a plethora of Danish underground acts for the past 20 years, among them black metal acts during the 90s, but the past 10 years mainly into experimental/electronic/noise acts such as LCT, Erwin Ewald, Captain Syphilis and MFJØRG. They are a circle of people who in different combinations have form a whole row of group and solo project, the promote these acts at LFORSK homepage and LFORSK youtube.
Martin is also known as MFJØRG, a pseudonym he uses for his painting and his horror dark ambient project. Brian's musicianship on both guitar and synthesizer is characterised by his anarchistic way of creating sound; a trademark he has kept and evolved throughout many years. The vocalist, Søren, is well known in the alternative rock and theater scene in Copenhagen.
Rat-Alarm has a cassette-only release out on Posh Isolation Records as well as a handfull of promos on Cd, MC and at LFORSK youtube:
The Phlegm sessions
Promo II
PROMO 1
Tape01

lforsk.com homepage
lforsk youtube