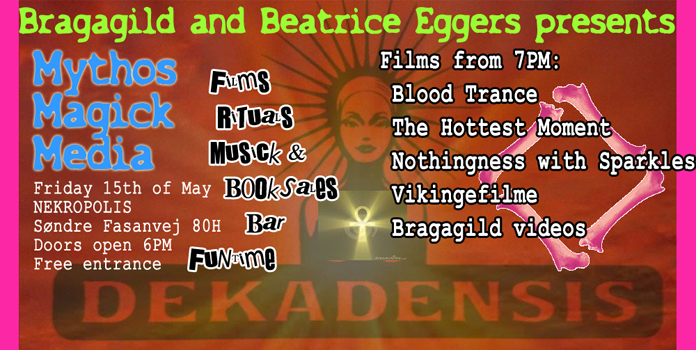 MYTHOS MAGICK MEDIA


Date: Friday 15 May 2015
Place: Nekropolis, Søndre Fasanvej 80H, 2500 Valby
Doors open 6PM
Free entrance

P a r t y T i m e
Bragagild and Beatrice Eggers presents an evening with esoteric films, ritualistic getting together, drinks of pleasure, good times rollin' and good music rockin'.

Doors open at 6PM, Friday 15th of May, at the NEKROPOLIS BOOKSTORE, Sønder Fasanvej 80H.

From 7PM we will show a collection of films by Beatrice Eggers and some of the Bragagild films we have made for special occasions, and a few surprise videos too.

NEKROPOLIS BOOKSTORE will provide bar with beer, wine and soft drinks, and books sales will be available, as well as the Bragagild music store will be present.

Expect Talking Bone Ritual and Drinking Horn Circle - everyone of any tribe, faith or lack of so are welcome. Become as you are.

Blood Trance, Denmark, 16 mm, 1995. Directed by Beatrice Eggers. Musick by Xotic Mind, a subliminal band with Stefan Kery.

Showing The Hottest Moment, Denmark, 16 mm, 2003. Directed by Beatrice Eggers. Musick by COIL.
DAVID E. WILLIAMS
NISS STRICKER
RAT-ALARM
Date: July 7 2015
Place and entrance will soon be announced.
DAVID E. WILLIAMS
Chamber synthpop, dark and deranged torch songs, existential angst and demented, sleazy lyrics that would make John Waters feel uncomfortable: Such is the world of cult hero DAVID E. WILLIAMS.
Williams has released numerous recordings of his demented chamber pop for close to three decades, but he has also collaborated with other artists, such as Rozz Williams (Christian Death), Blood Axis (as touring keyboardist), Deathpile, Jerome Deppe, Naevus, Thomas Nola and Andrew King.
A long standing icon in the world of neofolk and, especially, beyond, David E. Williams continues to expand the boundaries of dark cabaret and neofolk in ways that perpetually leave him as the ultimate outsider of both genres. And Williams' songs are songs for the outsider weirdo that hides deep within us all.
Williams is touring on the back, his 6th full length release, 'Trust No Scaffold Built of this Bone'. The new music ranges from finger-snapping ditties to chamber synthpop to his ever popular piano-driven art songs. The lyrics documents the violent dread of every moment, sung by a troubadour narrator whose delivery is deadpan in the extreme, with uniquely unsettling lyrics on the nexus of existential angst and cultural despair.
Purchase of all David E. William releases are available at iTunes Store.
www.davidewilliams.com
David E. Williams Soundcloud
www.itunes.apple.com/us/artist/david-e-williams/id216314686
RAT-ALARM
Be aware that Rat-Alarm also play saturday May 9 at Warehouse9 Find us




lforsk.com