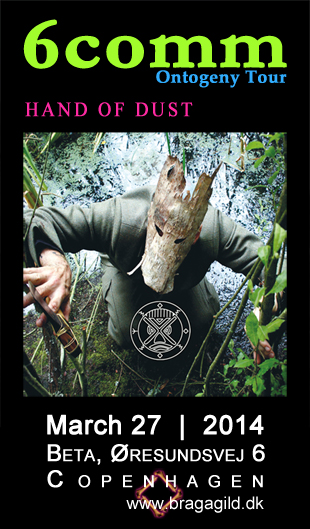 6COMM
The influental British post-punk/synth pop/experimental project 6comm will be playing in Denmark for the first time.
6comm was formed in 1986. Before that, 6comm's only permanent member, Patrick Leagas, had been the drummer and partial songwriter and singer in the legendary neo-folk/post-punk band Death in June.
On this tour 6comm will focus on their early material, where they mixed melancholic synth pop and experimenting post-punk, as well as the songs Leagas wrote for Death in June.
The songs cover subjects such as the horrors of war, human barbarity and self-knowledge, working with an expressive electronic pop sensibility and an image taking inspiration from Norse mythology.
6comm has always been uncompromising in their expression and driven by an inner necessity, whether they have been working with cold and melancholic synth pop swapped in Leagas' unique baritone voice, anxious industrial or the more experimental songs. This has given 6comm status as a cult band, and granted Leagas an impact on the underground music scene and especially the neo-folk and industrial scenes.
Leagas has collaborated with groups such as Kirlian Camera, the pagan author Freya Aswynn, and performed under the name Mother Destruction, an electronic/tribal project, when he hasn't been busy traveling countries such as Western Sahara, the Horn of Africa, the northern areas of Pakistan and Afghanistan, either as an aid worker, soldier, film technician or as a photographer depicting war scenes.
We can promise that this will be an unique experience, when Patrick Leagas project visits Beta this spring.
http://www.hagshadow.net/6comm
HAND OF DUST
Hand of Dust is one of the best bands to emerge from the Copenhagen scene. Bleak, intense and poetic post-punk with dramtic and gothic elements.
Hand of Dust has released on Sean Ragon's (Cult of Youth) label Blind Prophet Records, and Cult of Youth might be an apt comparison, though Hand of Dust are less folky.
Don't miss this event!
http://handofdust.bandcamp.com
KNOTWORK
FIRE+ICE
MOONGAZING HARE


Concert date: Sunday 29 June 2014
Place: UnderWerket
Valgårdsvej 2 / Entrance from Toftegårds Plads
2500 Valby (Copenhagen)

FIRE+ICE
Fire+Ice was founded by singer Ian Read in 1991 as one of the originators of the neofolk scene. Earlier on, Read had worked as a member of Sol Invictus, while participating on recordings with bands such as Death In June. Musically, Fire+Ice is situated in a field encompassing traditional, solemn folk-music and folk-rock, with songs inspired by asatru, nordic mythology, medieval legends and similar themes from ancient times.

Besides Ian Read, Fire+Ice will on this occasion consist of Michael Moynihan, Annabel Lee and Bob Ferbrache. Michael and Annabel are both core members of Blood Axis and have a long and wide history ranging from New York Underground and industrial music to neofolk and traditionalism, excercising in writing, publishing and music, as well as holding a torch of ideas and lifestyle beyond time. Bob Ferbrache is an influcial Denver based producer, sound engineer and musician who played a key role as producer/musician in "The Denver Sound" wave of band such as Woven Hand, 16horsepower, The Kalamath Brothers, The Czars, the Hectics, Foreskin 500, Tarantella, Maraca Five-0, DeVotchKa, Jay Munly and severel other projects.

Tourpage for Fire+Ice and Knotwork touring europe in June/July 2014:
https://www.facebook.com/events/1441925099376699

KNOTWORK
Annabel and Michael Moynihan with friends play music from Old Europe and New England. Traditional folk music, mostly from Ireland, with bodhran, fiddle and guitar.

To the right, a whole concert with Knotwork playing live at Saint Vitus in Brooklyn, New York City on December 22, 2013, press the youtube logo for full screen view.

Knotwork on Facebook:
https://www.facebook.com/KnotworkVermont





MOONGAZING HARE
Danish support act Moongazing Hare plays dreamy psychedelic neofolk with drone elements and has played at Fanø Free Folk Festival.

Moongazing Hare bandcamp:
http://moongazinghare.bandcamp.com